Overview of Carbohydrate Metabolism
Structural Features of Carbohydrates
Monosaccharides: aldehyde of ketone derivatives of polyhydroxy alcohols
The number of carbons is indicated by the prefix for the sugar just like in organic chemistry
i.e. hexose, 6 carbons; pentose, 5 carbons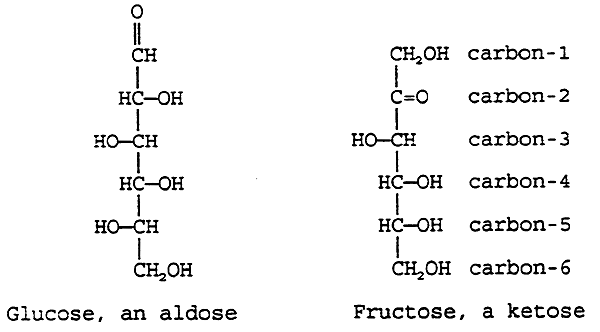 Asymmetric (chiral) Carbons: have four different chemical groups attached. Number the carbons beginning at the end nearest the aldehyde or ketone group.
Glucose has 4 chiral carbons (2,3,4,5)

Fructose has 3 chiral carbons (3,4,5)
Stereoisomers: 2n possible stereoisomers for a compound with n chiral carbons
Enantiomers: non-superimposable mirror images, most sugars in the body are D-sugars

The majority of hexose molecules exist in a ring or cyclic form.
Coversion of Glucose: Open Chain to Cyclic Form
i.e. pyranose and furanose rings
Anomeric Carbon: new asymmetric carbon formed when the sugar cyclizes
The hydroxy group attached to the anomeric carbon can be either a (down) or b (up).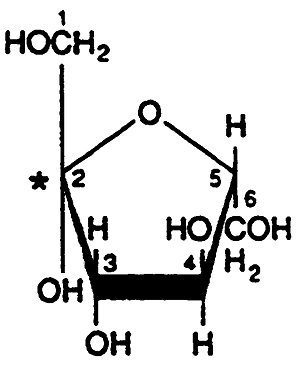 a-D-Fructofuranose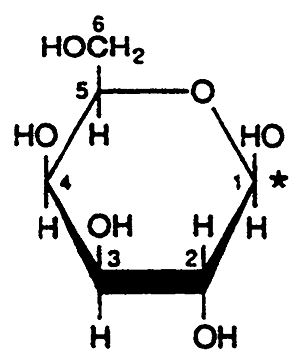 b-D-Galactopyranose
Reducing Sugar: the state of the oxygen on the anomeric carbon determines whether a sugar can react with oxidized compounds such as copper or iron.
If the oxygen on the anomeric carbon is not attached to some other structure, such as a metal or another sugar, then it is a reducing sugar. Oxygen can donate electrons to reduce copper or iron.
Polysaccharides: polymers of monosaccharides held together by glycosidic bonds.
a+-Maltose ("Reducing")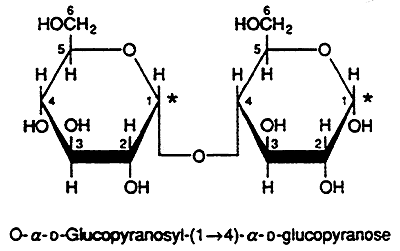 a-Sucrose ("Non-Reducing")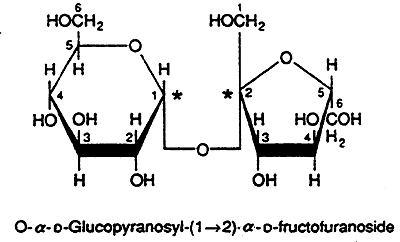 b-Lactose ("Reducing")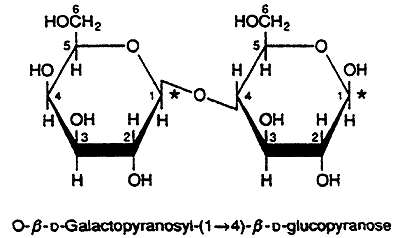 * Indicates which carbons are anomeric.
(1 --->4) indicates which carbons are involved in the glycosidic bond.
The a or b designation is determined by the reducing (free) anomeric carbon.
Glucose Transport:
1. You eat causing blood sugar to rise, this is known as the "Fed" state.

2. The liver signals the pancreas to release Insulin, a hormone responsible for utilizing blood glucose.
Insulin-Insensitive: uptake of glucose by the liver, brain and RBC is maximally active in the absence of insulin, insulin-insensitive. Since glucose reaches the liver before it signals the pancreas to release insulin it is important that the liver function independently of insulin. -----> prevents hyperglycemia.

Insulin-Sensitive: associated with glucose promoting pancreatic release of insulin.

Pathways of the Carbohydrate System:
Glycolysis: splits glucose to pyruvate, which can be converted to lactate.

Gluconeogenesis: converts pyruvate to glucose.

Glycogenesis: synthesis of glycogen, carbohydrate fuel storage form.

Glycogenolysis: breakdown of glycogen.

Pentose Phosphate Pathway (PPP): produces NADPH for cell biosynthesis.

Citric Acid Cycle: converts Acetyl CoA to CO2 and ENERGY
Note:
-lysis: splits
-genesis: creates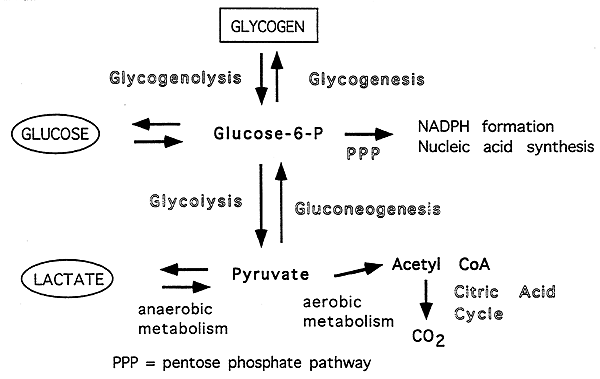 Overviews of Glucose Metabolism in Selected Tissues: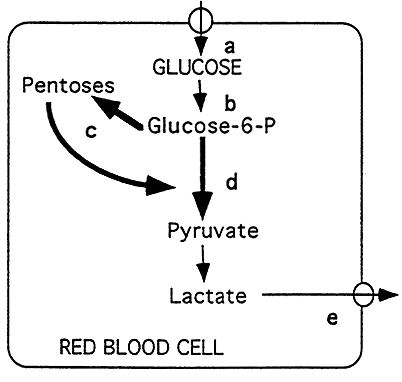 a= Insulin-Insensitive Transport of Glucose
b= Glycolysis
c= PPP
d= Glycolysis
e= "C" Leaves the Cell as Lactate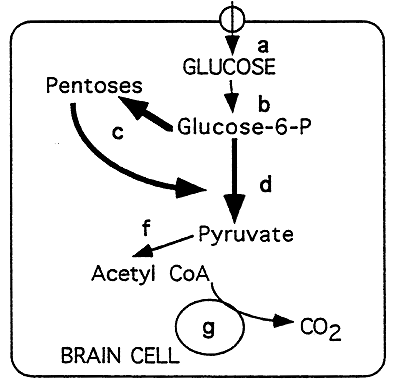 a= Insulin-Insensitive Transport of Glucose
b= Glycolysis
c= PPP
d= Glycolysis
f= Metabolism to Acetyl CoA (PDH)
g= Aerobic Energy Metabolism (CO2 Endproduct) - TCA Cycle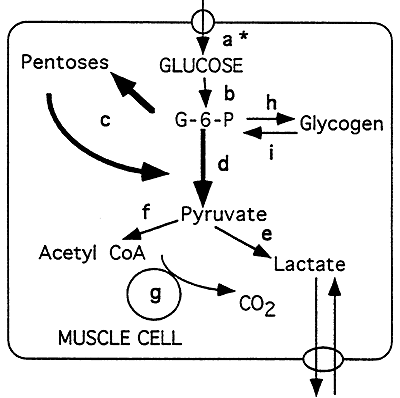 a= Insulin-*Sensitized Transport of Glucose
b= Glycolysis
c= PPP
d= Glycolysis
e= Anaerobic Energy Metabolism (Lactate Endproduct) - High Intensity Exercise
f= Metabolism to Acetyl CoA (PDH)
g= Aerobic Energy Metabolism (CO2 Endproduct) - TCA Cycle
h= Glycogenesis
i= Glycogenolysis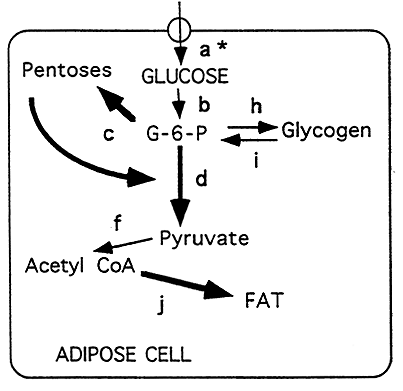 a= Insulin-*Sensitized Transport of Glucose
b= Glycolysis
c= PPP
d= Glycolysis
f= Metabolism to Acetyl CoA (PDH)
h= Glycogenesis
i= Glycogenolysis
j= Lipogenesis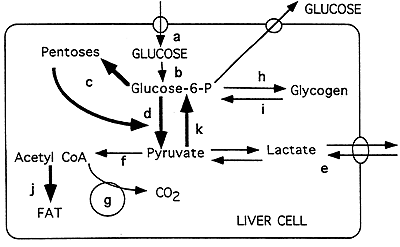 a= Insulin-Insensitive Transport of Glucose
b= Glycolysis
c= PPP
d= Glycolysis
e= Lactate is Transported and Metabolized
f= Metabolism to Acetyl CoA (PDH)
g= Aerobic Energy Metabolism (CO2 Endproduct) - TCA Cycle
h= Glycogenesis
i= Glycogenolysis
j= Lipogenesis
k= Gluconeogenesis
© Dr. Noel Sturm 2014